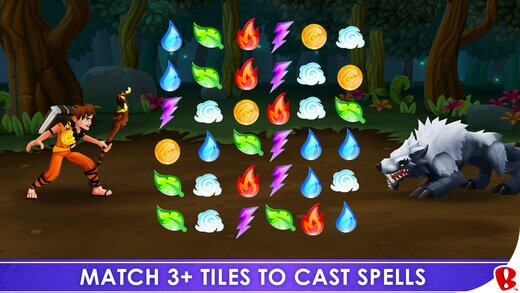 In times when reigned over the world of Darkness, unknown appeared who called himself the Gloomy Strangers. They had a special magic that was given to them from childhood, and for this reason they could own all 4 elements: fire, water, air and earth.
They were not like all the others, they were special, they saved the world from the shackles of Darkness. But time has passed, the Darkness was destroyed, but not completely. Through time, the very same Magic that awakened the Darkness and created the Gloomy Wanderer awoke again and the war begins again!
Start this new adventure in the game for Android called Spellfall Puzzle Adventure. You expect a simple and addictive mechanics 3 games in a row, beautiful 3D graphics, good role-playing game that will allow you to diversify your character the way you want, as well as very simple operation.
Gameplay and control:
The essence of the game is that you need to travel to the cities and to clear certain areas against different types of monsters. In one battle you might come across as a monster or two, and even more so before you start any battle, read about the battle, about the weakness of your opponent (opponents have a weakness for certain types of elements), as well as his life total and the maximum damage it can inflict.
Practically after each battle, the store will be new items. Every 24 hours you will get a bonus for logging into the game, and will still be able to open a bronze mailbox to get him some rare item (they fall not always, but the chance is still there). Game mechanics the game has been greatly modified in comparison with the classic game of 3 in a row. In this game you have a certain number of steps and the unlimited possibilities to move the runes.
That is, you without any problems can take a rune from the right corner and drag it into the bottom corner. This greatly simplifies the game and allows you to do a lot of combo attacks. Control of the game based on simple touches, nothing special. To move the rune, hold on her finger, and then move in the desired place. Or you can first click on the rune you want to move, then click in the place where you want to move.
Graphics and soundtrack:
Visually the game is nothing to complain about, as for casual toys very pleasing 3D graphics, special effects and the animation is developed at a high level, with optimization and stability no issues were found. The soundtrack and the sounds matched very well.
To summarize: Spellfall Puzzle Adventure is one of the few role-playing games with a casual slant, which is interesting to play almost everyone who is not indifferent to fantasy and to the genre of games 3 in a row. The game is free, Donat is present, but does not affect game balance. Enjoy the game!
Spellfall Puzzle Adventure