The developers at Zeptolab, which gave us the adventures of the nicest Om-Nom, has finally released a new game, which was not a continuation of the cult series, but slightly different projects, with different game mechanics.
In the game for Android called King of Thieves you have to try on the role of king of thieves, who have been in prison, but unknown friend named jeffy helped you get out of jail and even helped to find your own dungeon, where you are nice and settled now collect your own treasures.
But the main feature of the game is that you can steal from other thieves who hid in the dungeons, we should not forget that you can also become the victim of theft, if not properly equip all traps. The game will delight you with a signature style from Zeptolab, fun gameplay and very simple controls.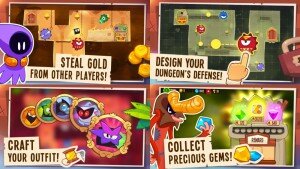 Gameplay and control:
The idea of the game is very similar to the PC game called The Mighty Quest For Epic Loot. That is, you have your own dungeon, where is the totem with crystals and treasures with heaps of gold. You can steal from the same thieves, like you, but you can also Rob.
The only thing that can prevent you Rob someone or to Rob you – it's a trap, which can be arranged at your discretion. You can also buy a different set of traps to get better protection. If you change the location of some traps, then before saving, you need to go through them. This is quite true, because if someone just took it and made the passage circular saws, through which it is impossible to pass – it would not be very honest. The developers describe the game as a PVP multiplayer platformer that, in principle, correct, but if you don't want to loot dungeons of other players, you can take part in a single game.
How to be a robbery? For a start you are looking for a random dungeon a real player. After successfully found, decide whether you want to enter into it, after seeing the number of traps. Then you need to break the door, but it will have to find a real castle of a certain number available. To open one lock out one key, but their number is limited. After you have successfully found the right castle, all you need to complete the level and try not to die. Life bar is in the upper right corner.
Each such robbery brings you not only gold, but in some cases the crystals. Crystals need to be improved in special totems to increase your level in the rankings and become the king of the League. The control is performed using a simple touch screen.
Graphics and soundtrack:
Graphically the game is made in a very similar style as the other projects from Zeptolab. Beautiful, smooth animation, painstakingly detailed graphics and excellent optimization. The soundtrack and sound effects are always gorgeous.
To summarize: King of Thieves is great for anyone who loves online games and do not mind to pass the time in a fun and stylish platformer, which gave the developers at Zeptolab. The game is free, Donat, of course, is present. Enjoy the game!
Download King of Thieves